A medieval musical ensemble
Performers of Medieval, Renaissance and Baroque music played in costume on period instruments, we provide music for weddings, receptions, banquets, company parties, art openings, plays and fundraising events along the Wasatch Front in Utah.
Make your event elegant, warm and unforgettable!
Contact:
Twila Hansen (twilahansen18@gmail.com)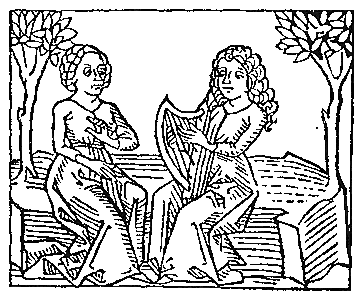 Recent performances:

Springville Library, October 2012
Legacy Village in Layton, November 2013
Springville Library, March 2014
Lehi Library, December 2015
Day-Riverside Library, December 2015, 2016, 2017
Orem Library, December 2015, 2016, 2017, 2019
Marmalade Library, November 2019

A sample of our work
Some of our favorite pieces:
Ah, Robin
The Jew's Dance
Pastime With Good Company
Of All the Birds
Strawberry Leaves



A brief history of Musica Antiqua
Musica Antiqua was established in 1972 as a project for an honors chamber choir at Weber State College in Ogden, Utah. The group has performed in eight plays with the Weber State Theater Department and the Unicorn Theater, on a live broadcast for KRCL Radio, and in eight recitals for the Temple Square Concert Series, as well as playing more recitals, parties and wedding receptions than they can count. From unique instruments and animal noises to courtly dances and sublime melodies, Musica Antiqua enjoys sharing medieval and Renaissance music with audiences of all ages.
Members of the group include:
Bitsy Schultz, harp, crumhorn and recorders
Marta Adair, crumhorn, recorders and percussion
Michelle James, mandolin, crumhorn and recorders
Twila Hansen, lute, viola da gamba, crumhorn and recorders
Penny Gardner, recorders and viola da gamba
Julie Gritton, soprano and recorders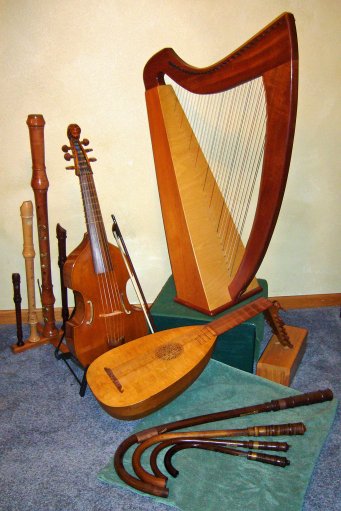 Some of our instruments (left to right): recorders, viola da gamba, folk harp, lute, crumhorns